One of the reasons I like living in the greater Kansas City area is that vast variety of museums and cultural venues around. I am not originally from this area and I think my family has a hard time understanding what it is I like it about the area. Not only is there a lot to do, it is often not that crowded which adds to my enjoyment.
Today was one of the last days before school starts for my soon-to-be second grader and also a day off for me. We started the day out at the Kansas City Public Library. The library is housed in what was once the First National Bank. The building alone is impressive with marble floors and vaulted ceilings. The children's collection is on the second floor and has a great selection. This summer I took a class called Aesthetic Experiences which focused on integrating the arts with other elementary level subjects. For some of the projects, I required children's literature and found the library to be a great resource.
There is a librarian who is on duty and provided ample help in finding books that were not the shelves but held in the back storage area. My girls enjoy the play area in the middle that has a full-sized stuff cow for climbing on. There are also materials out to color and huge Lego bricks for building.
After picking out a few books (the second grader got three, I picked two), we walked around the different floors of the library looking at the art on the walls, taking in the sheer number of books available, and looking out the windows on the higher levels at the impressive views offered of Kansas City.
On our way home we passed a sign for the Wyandotte County Museum. I have passed the sign about a million times and have never stopped to take a look. With time to spare, I turned right and headed for the museum.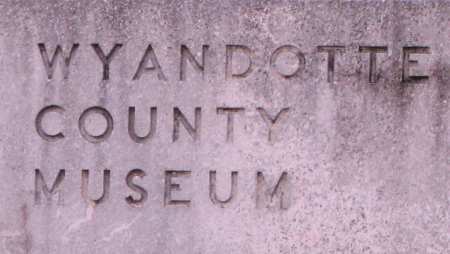 The museum is dedicated to the history of Wyandotte County from the earliest days of the indigenous Native Americans through Kansas statehood and into the 20th Century. While not a large museum, it did have several hands-on exhibits that are perfect for elementary school students. Now that I know it is there, it is a location I want to return to in order to do a bit more exploring. This place would make a great field trip destination.