Joseph Sheehan Bicycle Road Race: Today I helped support a 52.9 mile bicycle race between Leavenworth and Atchison, KS. The weather was miserable. A cold morning to begin with. Then rain… and sleet. Even snow. I was positioned at a intersection that crossed the highway which served as about the 10 mile mark and then 40 mile mark on the route back. 52 cyclist made it to the 10 mile point and not more than 20 went on to finish the race. I couldn't believe that many of the guys hung with it. Those were some dedicated folks.
There were four of us supporting the race, positioned at key spots along the route (inside our nice, warm vehicles). I was able to have several "lessons learned" for this event. I had a distinct lack of planning and preparation.
(1) I didn't fully check my rig prior to the event. I was at the event site trying to do a radio check with net control with no results.
(2) When it is time to troubleshoot, you have to use logic. When time is short (because of lack of preparation) and problems come up, you have to keep your head. Troubleshooting a radio system is pretty basic. Start from one end and work to the other. Finding that the antenna feedline isn't properly connected to the rig should be an easy fix.
(3) Having an HT as backup is good. Knowing how to change the settings on it is critical. One of those Nifty manuals or smart cards does the trick.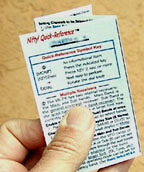 That being said, thanks to the quick thinking of the net control I was able to initially talk to him on my HT using a repeater that didn't require a tone (I'd forgotten how to change the tone setting on my Kenwood TH-D7A).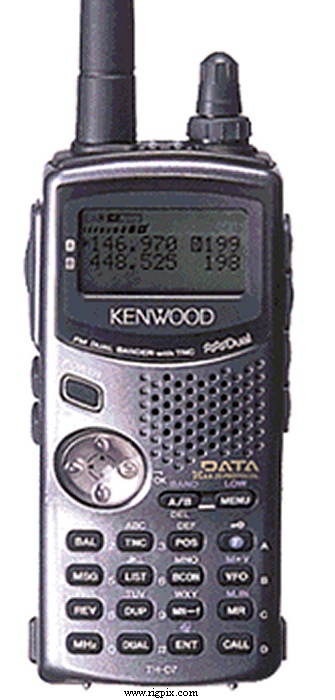 I eventually figured out how to set the tone and was on the repeater with the other folks. Then with a bit more thought and troubleshooting, I discovered my feedline connection to the rig had come loose and with that fixed I was back in business. Part of the problem is that I have a relatively new rig in the truck, the Kenwood TM-D710A. It is a very complicated rig and I have only scratched the surface on how to operate it. I was able to interface it with the Garmin Nuvi 350 thanks to a cable from Argent Data Systems. The cable allows the D710A to pass APRS data to the Nuvi and the Nuvi plots the data as waypoints. It works pretty well.


Big week ahead. I mentioned before that I have some specific graduation requirements for the course I am in at Fort Leavenworth. This week I should be able to complete another of the requirements: speak to a community group, school, or other organized gathering of citizens. I have put together a presentation concerning my operations of both amateur radio and MARS station while in Iraq and will be giving the presentation to one of the local amateur radio clubs. The presentation, in addition to my operations, covers the history of the US Army and amateur radio while deployed overseas. It has been fascinating researching the operations of previous Army hams from WWII (Germany and Japan), Korea, Vietnam,
Desert Storm, Afghanistan and Iraq. I also cover the history of amateur radio in Iraq from the early days in the 1920s through the Saddam period and then today. Once I get my slides spiffied up a bit more and add some notes, I will post a link here so those who are interested can take a look. My final requirement is: write professionally by submitting a letter to the editor, Op-Ed piece, or article for publication. My intent is to turn the presentation into an article and then send it to ARRL's QST. Most of the article is done – I hope to get it completed this week as well.